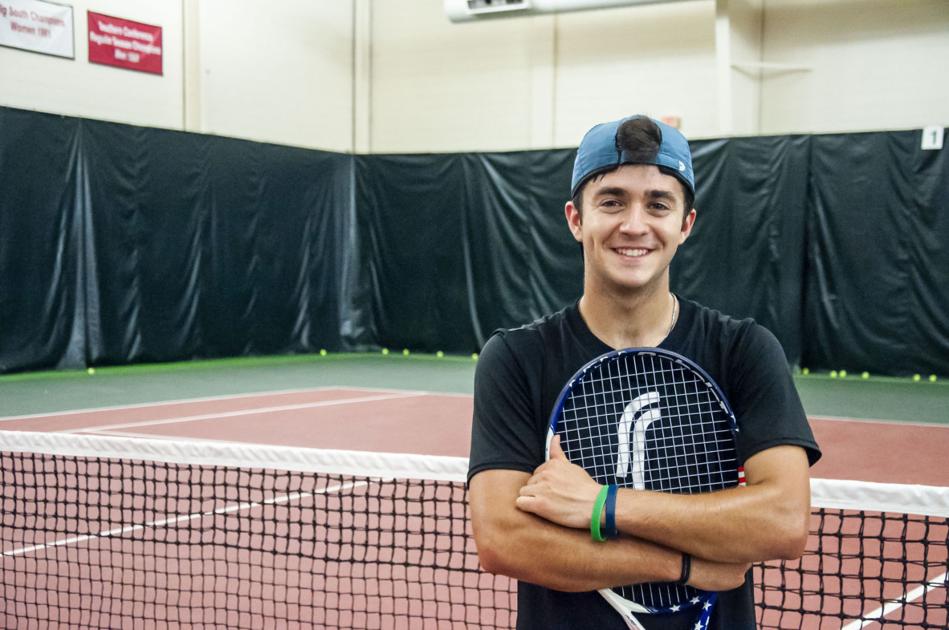 Pine Lake Prep's tennis coach calls Max Vicario an elite athlete.
"He's made a statement in the state of North Carolina in high school tennis," coach Paul Ebenhoeh said. "He's a name to remember in high school tennis and will never be forgotten at Pine Lake Prep."
Vicario, who finished second in the state in 1A singles competition this year, is the Record & Landmark's All-County Men's Tennis Player of the Year.
Unlike many other athletes who count on a family history for their love of a certain sport, Vicario discovered his talent at tennis on his own. His father did watch the sport on television and Vicario joined in on the viewing.
"He's got a special drive. He's been in love with the sport since he was 6-years-old," his coach said.
Vicario said he was around 6-years-old when he first picked up a racket and it was love at first volley. "I loved it from there," he said.
He began playing in tournaments at age 8 and by ages 11 to 12 he was playing in several tournaments a week. He relied on travel teams and tournaments to hone his skills as Pine Lake didn't have a tennis program in its early years.
"He's been at Pine Lake before they even had a tennis program" Ebenhoeh said. Vicario developed his skills at the game on his own. He said Vicario took advantage of every opportunity to better himself, training on his own. "He put a lot of pressure on himself," he said.
That was easy, Vicario said. "I just loved it," he said. "I lived for the competition."
While he realized he had a talent and a desire to play tennis early on, he did try other sports, including basketball. He soon realized that his skills and size were better suited for tennis and that became his primary sport in high school.
Vicario said he grew up watching the Davidson Wildcats college team and now practices and trains at the Wildcats' facility.
Vicario said the appeal of tennis is both the individual competition and the team aspect. Ebenhoeh said Vicario is equally adept at both phases of the game. "We can rely on him for two wins – one in singles and one in doubles," he said. And when Vicario isn't playing, he was the team's top cheerleader. "He's cheering on his teammates," he said.
Vicario said of all the matches he played his senior year, one sticks out. Against Bishop McGuiness on May 8, he won in straight sets, 6-1, 6-1. "That was definitely a highlight of my high school experience," he said.
He said the strongest part of his game is his speed and his backhand.
Vicario is spending his summer playing and training in preparation for his freshman year at Case Western Reserve University in Ohio. While the school's strong tennis program was an attraction for Vicario, it is the university's academic reputation that sealed the deal.
Ebenhoeh is not surprised that academics are at the forefront for Vicario. "He's an honor student with a 5.08 GPA, which is unbelievable," he said.
Excelling at academics and athletics, Vicario amassed a 79-4 record during his high school career at Pine Lake. Three of those losses came at the hands of the 1A state champion , Ryan Macy from Elkin.
"They've been back and forth for the last four state individual titles," Ebenhoeh said.
Vicario was the four-time conference champion and four-time Conference Player of the Year. He also claimed the 1A West Regional Championship four times and was the two-time N.C. High School Athletic Association singles champion.
Despite the impressive resume on the courts and off, Ebenhoeh said, Vicario was a joy to coach. "You would think I would have had to deal with some ego issues, but it's never been an issue whatsoever," he said. "He made Pine Lake Prep tennis that much more special."
Davis Cohen, Pine Lake Prep
Jacob Durham, Statesville Christian
Aryan Malhotra, South Iredell
Max Vicario, Pine Lake Prep
Blair Warren, South Iredell