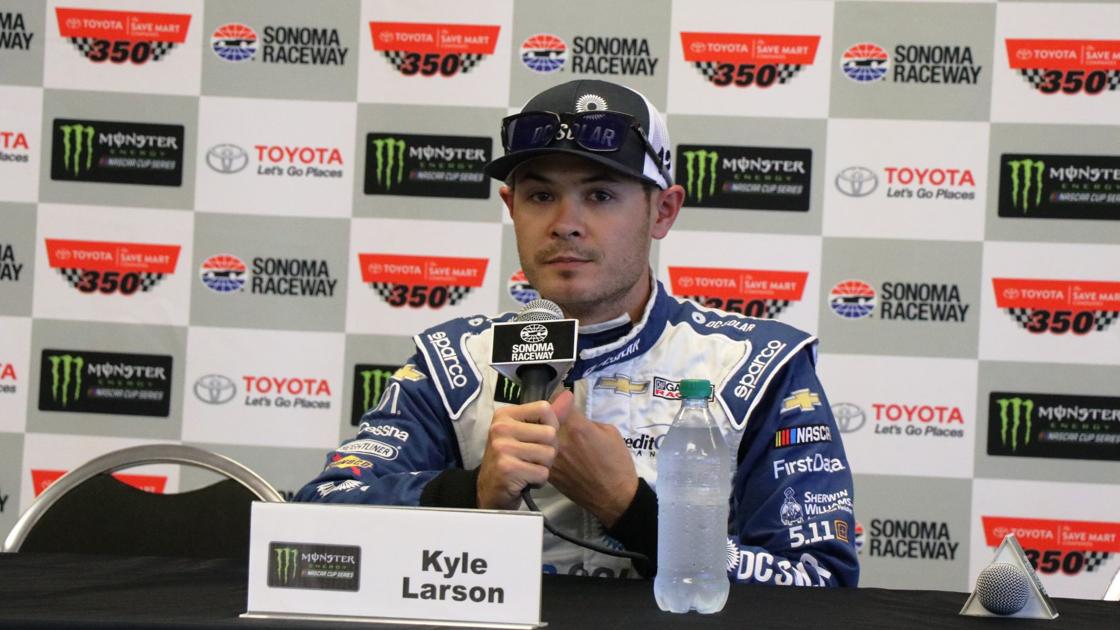 SONOMA — On a sunny, hot Saturday, Kyle Larson made it two in a row at the Sonoma Raceway.
For the second straight year, Larson captured the pole for NASCAR'S Monster Energy Cup Toyota/Save Mart 350.
With the temperatures hovering just over 90 degrees, and the on track temperature topping 100, Larson sat in the 10th spot after Saturday's first round of qualifying, then vaulted into the pole position after the second and final qualifying round with a top lap of 94.597 miles per hour.
"I had a really good lap in that second round. I knew it was going to be a good lap. I didn't know it was going to win us the pole," said Larson. "I don't know what my crew did to make the car faster in the second round but I just attacked the corners a little bit harder in the second round."
AJ Allmendinger led all qualifiers with a 94.477 mph run in the first round but faded to fifth when the second round wrapped up.
Martin Truex Jr. was second in the first run with a 94.240 lap.
Truex improved to 94.484 in the second session to hold onto the second spot to start beside Larson on the front row of Sunday's race.
"It was a good day for us — both rounds — we just came up a little short," said Truex. "But overall, it was a good day for our team and we get to start up front tomorrow so, hopefully, we'll have another good day tomorrow."
Chase Elliott, Jamie McMurray, Allmendinger, Kevin Harvick, Jimmie Johnson, William Byron, Kyle Busch, Brad Keselowski, Ryan Blaney and Joey Logano rounded out the top 12.
The morning began with qualifying for the K&N Pro Series West Carneros 200.
Bill Kann blew the engine on his Interstate Batteries Chevrolet during the second K&N qualifying session.
That dropped a significant amount of oil onto the track which the safety team cleaned up with Speedy Dry.
But the cleanup caused concern for the NASCAR Cup racers who followed the K&N drivers onto the track.
"The oil affected the way our first session of qualifying went," said Truex. "A lot of guys wanted to go out on the race track but waited. You could see the guys who went out early wanted to get in a good lap but they just couldn't get their speed up."
 "I was concerned with the Speedy Dry," said Larson. "Even if it doesn't affect the track, it kind of gets into your head. You wonder if the track is okay."
Several Cup racers went out onto the track only to park by the side of the track just past turn 7.
They waited until near the end of the session — with about four minutes to go in the qualifying session — to roll out onto the track.
By the end of the round, track conditions were nearly ideal.
"This track here is a lot about tire management. This track chews up tires," said Truex. "I expect the track to be a lot more challenging Sunday than it was (for practice) Friday and today. It's supposed to be cooler Sunday so I expect we'll lay more rubber down and the track will be slicker."
"I don't think the weather will be a big factor. I'm from California and 100 degrees isn't a big deal and tomorrow will be a lot cooler," said Larson. "The big thing is how we manage our tires. I think as long as we can keep our track position tomorrow, we'll have a good shot at the win."