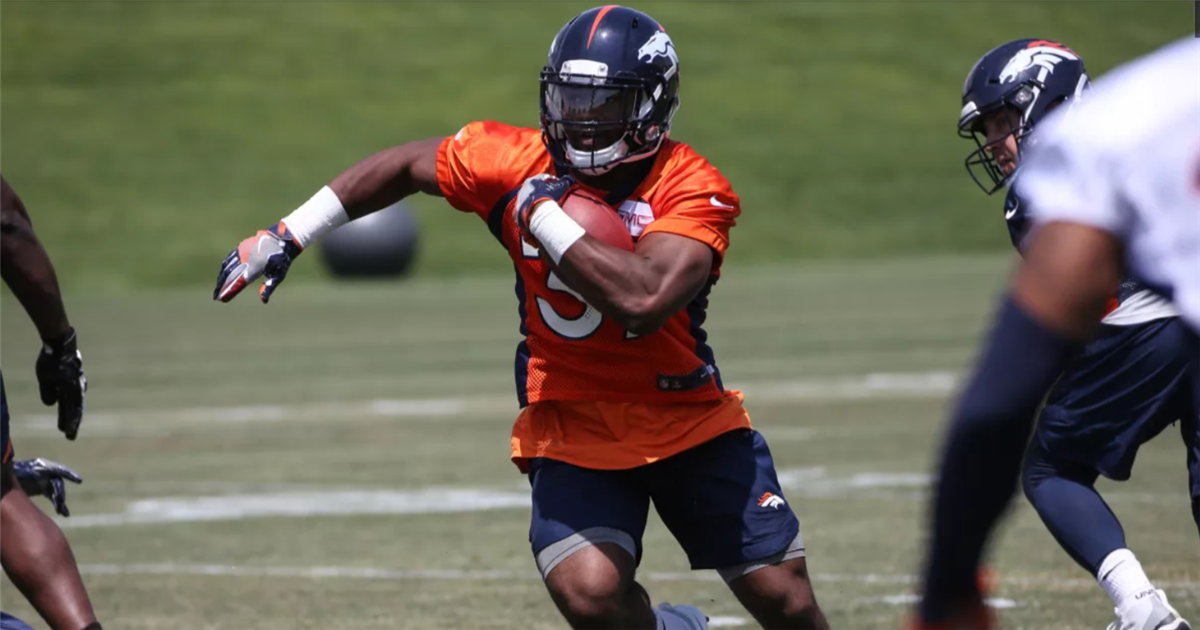 The Denver Broncos wrapped up their third phase of Organized Team Activities last week, and so far we've received a few snippets of quality information as to how the team has been shaping up. From future Hall of Fame OLB Demarcus Ware coming in as a 'pass rush consultant' to first-year tight end Jake Butt making spectacular one-handed grabs during practice, there's been a lot of exciting developments coming out of Dove Valley.
There have been several players that have stood out in these non-contact practices, and competition has ramped up for a few depth chart slots already. One roster battle that has a ton of competition for the starting job happens to be at running back.
Devontae Booker is the returning veteran, and really needs to step his game up to a new level to hold off a couple of rookies. Freshly drafted out of Oregon, Royce Freeman is nipping at Booker's heels for snaps and undrafted free agent Phillip Lindsay happens to be a nice threat as a receiving back perfectly suited for third down passing situations.
Freeman weighed in on the fiery competition thus far.
"I'm feeling good. It's fun just to be competing with those type[s] of backs helping each other out," he said. "I think when we see each other do well, it drives the whole running back room."
Phillip Lindsay, a fan favorite out of Colorado, has been a viable option to win the punt and kick returning position and that versatility has him as a darkhorse to make the roster. His position versatility makes him hard to pass up, as he can be a solid option out of the backfield in passing situations.
Get access to Denver Broncos inside info, deep-dive analysis and in-depth film reviews! Don't wait – become a Mile High Huddle VIP subscriber today! 
"We're all different," Lindsay said. "We have different styles but we are going to compete and we're going to make each other better. Because at the end of the day, we all need each other. Everybody is working hard and I'm just here to compete for a job."
Booker, who has underwhelmed as C.J. Anderson's backup the past couple of seasons, really looks forward to the young guys coming up and trying to take his spot.
"That's what I'm looking forward to," Booker said. "All of them are going to push me and I'm going to push them to the fullest. So, I'm really looking forward to the competitiveness that all the guys bring."
All three of these backs are looking to have a significant impact upon the Broncos offense this season. Booker, as the incumbent veteran, is probably the favorite in the clubhouse to win the starting gig, but he's yet to prove that he can be the 'bell-cow' style featured back the Broncos envisioned.
Freeman was a dynamic runner at Oregon, known for making big runs out of nothing. Lindsay was the super scat-back that was awesome out of the backfield, but could still run between the tackles using his slighter stature as a weapon.
But we can't forget De'Angelo Henderson, who for some reason was forgotten by the coaching staff last year. But he took a screen pass 29 yards to the house when he was finally given some playing time in Week 17. 
While there may not be a superstar among this year's running back corps, fans should be optimistic that the Broncos might have a threat in the backfield, even if it is as a collective. Let the competition resume.
The Broncos will return to the practice field for mandatory OTAs June 12-14.