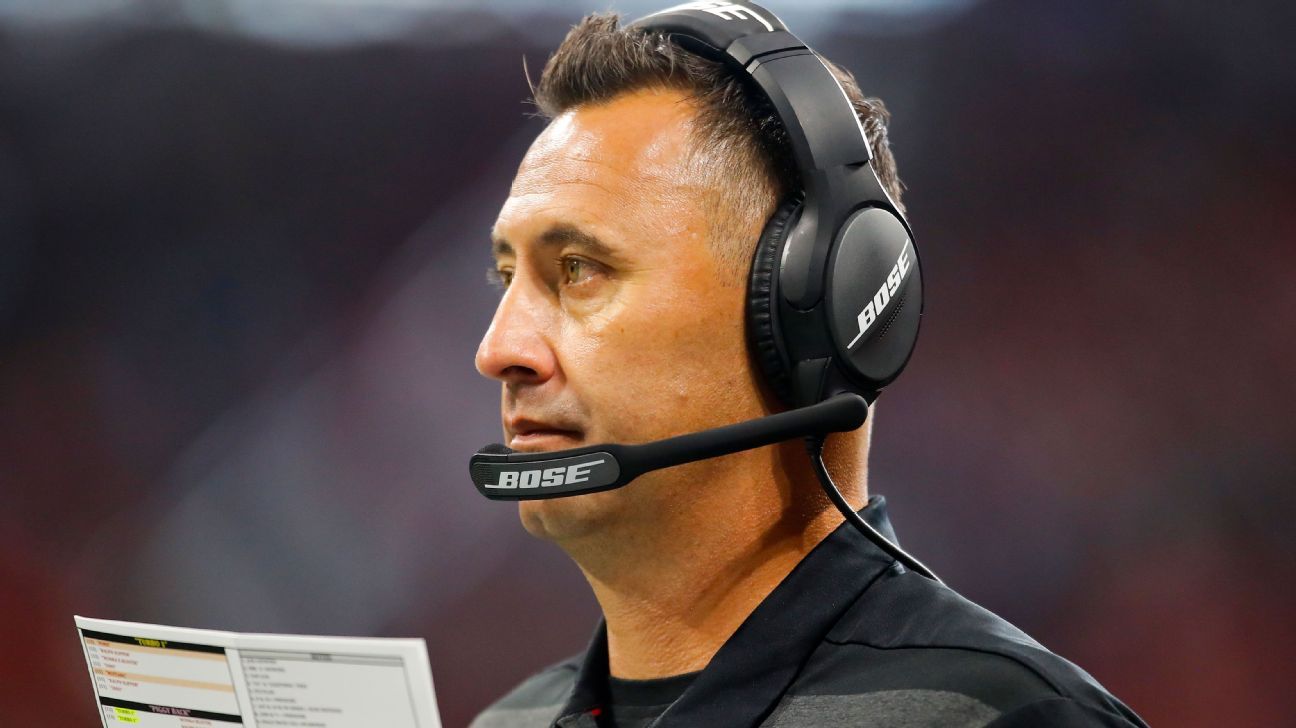 FLOWERY BRANCH, Ga. — Atlanta Falcons tight end Austin Hooper wore a smirk on his face when asked about the early-season criticism directed toward offensive coordinator Steve Sarkisian.
"In the city of Atlanta, everyone's a critic," Hooper said. "When we were 1-4, everyone hated us. Now everybody seems to be back on the train. All we worry about is the guys who are in the building. So, we had Sark's back from Day 1. And that's all that matters: The connection we have to each other. People outside the building are always going to say what they're going to say."
JULIO. JONES. TOUCHDOWN. pic.twitter.com/Cvs1ony5jy

— Atlanta Falcons (@AtlantaFalcons) November 4, 2018
Well, the people outside suddenly are calling Sarkisian brilliant, with the offense clicking on all cylinders and the Falcons riding a three-game winning streak into Sunday's road contest against the Cleveland Browns (1 p.m. ET, Fox). Sarkisian's offense ranks first in the NFL in third-down conversion percentage (53.3 percent), fifth in points per game (28.5 PPG) and seventh in red zone efficiency (69.2 percent).
A reporter asked Sarkisian on Thursday if he felt like giving a verbal middle finger to his critics.
"No, not at all," Sarkisian chuckled. "I've said this before: I've been in this business for a long enough time now to know it comes with the territory. When things are good, people probably think you're better than you are. And when things aren't going great, they probably think you're worse than you are.
"The challenge as a coach and a player, really, is not to ride the emotional roller coaster of what's going on outside of the building. And not getting too high and not getting too low, but finding that even keel. You trust your process, you trust your work, and you believe in yourself and you believe in the people you have around you. And you do the best job you can do. That hasn't changed for me."
Quarterback Matt Ryan, who is having an MVP-caliber season while completing 70.8 percent of his passes, pointed to one play in particular that illustrated just how much Sarkisian should be respected as a playcaller. It was the screen pass to Julio Jones on third-and-2 in the fourth quarter Sunday in Washington. Jones followed his blocks, shook off a tackle attempt by safety Ha Ha Clinton-Dix at the 5-yard line and backed into the end zone for a 35-yard touchdown — Jones' first score of the season.
"Well, we had that up here for a few weeks, and we had been practicing that play," Sarkisian said. "I actually didn't call it in practice in a competitive period against defense, and Matt and Julio were giving me a hard time about, 'Just call it, Coach. Just call it.'
"When the situation came up in the game and I called it and it scored, they were kind of ribbing me pretty good, 'See, if you would have called it in practice, the same thing would have happened.'"
Here's a little of what the players had to say about Sarkisian using that play in Washington:
Tight end Logan Paulsen: "It's three tight ends, so 13 personnel. Only one receiver on the field. That's a personnel group that you predominately run the ball out of. We got into a formation where we run like a very specific type of run, so I think it kind of gets the defense thinking, 'Oh, they're running a crack toss to the right.' You could see everyone's eyes. They're like looking over here [to offense's right]. They think action's coming over here. We fake the pitch, right. The whole defense runs over. Basically, it turned into a one-on-one situation with Josh Norman and Julio. And we had the left tackle get out there, and Jake [Matthews] did such a good job of knocking [Norman] down. And everyone else kind of sucked over that the guard [Wes Schweitzer] was able to come out and kind of seal the defense off. So it was just one-on-one with the middle-of-the-field safety. And that's how you draw it up."
Jones: "We talked about it for two weeks or so, about running that particular screen to me. I was like, 'Sark, what's up? I need a screen. I need a screen.' He finally called it, and I was like, 'OK, it's money time.' It's like one of those things, you're going to make it work regardless. If I had to run around the whole field, I probably would have done it."
Hooper: "In that situation of the game, we were trying to run the ball so much to close out the game by running out the clock that we did a fake toss sweep to the right and turned around and threw a quick screen left. The whole defense was pursuing the run action, which was the fake toss to the right, so it created a lot of space for Julio. It was the perfect call for the defense at the right time of the game."