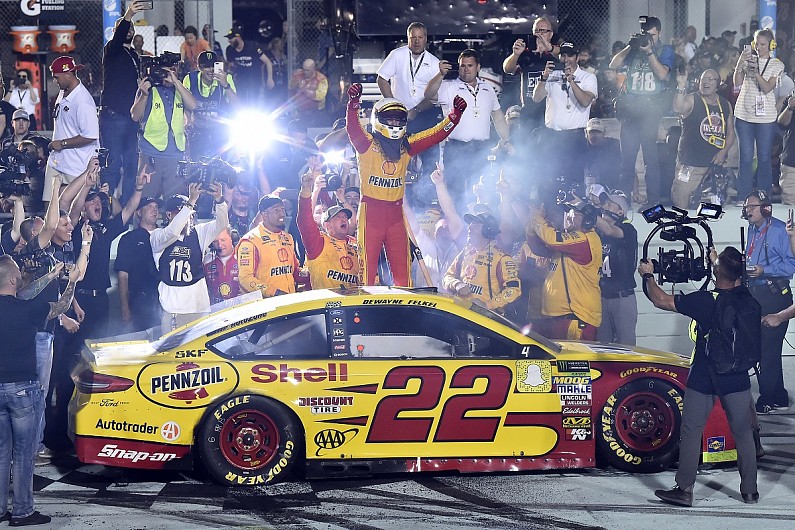 Joey Logano won the 2018 NASCAR Cup series title in a dramatic 15-lap shootout following a late caution at Homestead that pitched the final four contenders into a head-to-head battle.
The Penske driver led more laps than any of his other final four rivals – Martin Truex Jr, Kyle Busch and Kevin Harvick – but each contender had looked set for victory at various points of the race.
The finale's decisive moment came when Joe Gibbs Racing's Daniel Suarez – in his final race for the team – picked up a puncture after Brad Keselowski was pitched into the Toyota following contact from Matt DiBenedetto.
The resulting caution late in the third stage was a huge boost to Busch, who had slipped out of contention after two poor pitstops.
Busch's crew chief Adam Stevens left the JGR driver out on track when the other three title contenders pitted in the hope of a late caution to level the playing field.
Pitting under caution, Busch returned to the track in the race lead ahead of Truex, Logano and Harvick.
But a poor restart on lap 253 of 267 allowed Truex to surge past as Logano followed in pursuit.
The pair's heated rivalry after last-lap contact at Martinsville that put Logano into the final four had threatened to bubble over after Truex nudged Logano's Ford early on.
This time around it was a clean battle but Truex's lead was eradicated when the defending champion wrongly took the high line twice, allowing Logano to surge past and storm to the race victory and his first Cup title.
Truex would finish second in his final race for the Furniture Row Racing outfit that will now close its doors after the exit of key sponsors.
The 2017 champion had played a safe strategy, pitting a lap later than his rivals at the first pit window to avoid pitlane chaos and waiting until late in the race to become a factor in the lead battle.
Harvick finished third after looking a likely victor early on, winning the first stage, but a slow stop in the late caution had dropped him to fourth.
The Stewart-Haas Racing driver had complained of a poor set-up that hampered his race midway through, but led the second-highest amount of laps with 58.
He would pass Busch following his poor start to make a place back up before the flag.
Busch finished ahead of fifth-placed Keselowski, who had played the role of spoiler in the opening laps, running in the lead battle despite the fact he was not in title contention.
His role was later taken over by Kyle Larson, who won the second stage by running the outside line with great success.
At one point the Chip Ganassi Racing driver was half a second quicker than the leading cars but contact with the wall led to a puncture that resigned him to a finish of 13th in a winless season.
Matt Kenseth's likely last Cup series race finished with his best result since returning this year with sixth place.
Seven-time Cup champion Jimmie Johnson's last race with crew chief Chad Knaus ended in 13th aboard his Hendrick Motorsports Chevrolet Camaro.
Result – 267 laps
| Pos | Driver | Team | Car | Gap |
| --- | --- | --- | --- | --- |
| 1 | Joey Logano | Team Penske | Ford | 3h00m36.s |
| 2 | Martin Truex Jr. | Furniture Row Racing | Toyota | 1.725s |
| 3 | Kevin Harvick | Stewart-Haas Racing | Ford | 21h59m24.s |
| 4 | Kyle Busch | Joe Gibbs Racing | Toyota | 21h59m24.s |
| 5 | Brad Keselowski | Team Penske | Ford | 21h59m24.s |
| 6 | Matt Kenseth | Roush Fenway Racing | Ford | 21h59m24.s |
| 7 | Chase Elliott | Hendrick Motorsports | Chevrolet | 21h59m24.s |
| 8 | Clint Bowyer | Stewart-Haas Racing | Ford | 21h59m24.s |
| 9 | Aric Almirola | Stewart-Haas Racing | Ford | 21h59m24.s |
| 10 | Kurt Busch | Stewart-Haas Racing | Ford | 21h59m24.s |
| 11 | Austin Dillon | Richard Childress Racing | Chevrolet | 21h59m24.s |
| 12 | Denny Hamlin | Joe Gibbs Racing | Toyota | 21h59m24.s |
| 13 | Kyle Larson | Chip Ganassi Racing | Chevrolet | 21h59m24.s |
| 14 | Jimmie Johnson | Hendrick Motorsports | Chevrolet | 21h59m24.s |
| 15 | Ryan Newman | Richard Childress Racing | Chevrolet | 21h59m24.s |
| 16 | Ricky Stenhouse Jr. | Roush Fenway Racing | Ford | 21h59m24.s |
| 17 | Ryan Blaney | Team Penske | Ford | 21h59m24.s |
| 18 | Jamie McMurray | Chip Ganassi Racing | Chevrolet | 21h59m24.s |
| 19 | A.J. Allmendinger | JTG Daugherty Racing | Chevrolet | 1 Lap |
| 20 | David Ragan | Front Row Motorsports | Ford | 1 Lap |
| 21 | Darrell Wallace Jr. | Richard Petty Motorsports | Chevrolet | 1 Lap |
| 22 | Ty Dillon | Germain Racing | Chevrolet | 1 Lap |
| 23 | Chris Buescher | JTG Daugherty Racing | Chevrolet | 1 Lap |
| 24 | William Byron | Hendrick Motorsports | Chevrolet | 1 Lap |
| 25 | Paul Menard | Wood Brothers Racing | Ford | 2 Laps |
| 26 | Matt DiBenedetto | Go FAS Racing | Ford | 3 Laps |
| 27 | Erik Jones | Joe Gibbs Racing | Toyota | 3 Laps |
| 28 | Michael McDowell | Front Row Motorsports | Ford | 4 Laps |
| 29 | Alex Bowman | Hendrick Motorsports | Chevrolet | 4 Laps |
| 30 | Daniel Suarez | Joe Gibbs Racing | Toyota | 5 Laps |
| 31 | Landon Cassill | StarCom Racing | Chevrolet | 5 Laps |
| 32 | J.J. Yeley | BK Racing | Ford | 6 Laps |
| 33 | Ross Chastain | Premium Motorsports | Chevrolet | 8 Laps |
| 34 | Corey LaJoie | TriStar Motorsports | Chevrolet | 8 Laps |
| 35 | B.J. McLeod | Rick Ware Racing | Ford | 11 Laps |
| 36 | Kyle Weatherman | StarCom Racing | Chevrolet | 11 Laps |
| 37 | Timmy Hill | MBM Motorsports | Toyota | 13 Laps |
| 38 | Tanner Berryhill | Obaika Racing | Toyota | 13 Laps |
| 39 | Regan Smith | Leavine Family Racing | Chevrolet | 27 Laps |
Drivers' championship standings
| Pos | Driver | Points |
| --- | --- | --- |
| 1 | Joey Logano | 5040 |
| 2 | Martin Truex Jr. | 5035 |
| 3 | Kevin Harvick | 5034 |
| 4 | Kyle Busch | 5033 |
| 5 | Aric Almirola | 2354 |
| 6 | Chase Elliott | 2350 |
| 7 | Kurt Busch | 2350 |
| 8 | Brad Keselowski | 2343 |
| 9 | Kyle Larson | 2299 |
| 10 | Ryan Blaney | 2298 |
| 11 | Denny Hamlin | 2285 |
| 12 | Clint Bowyer | 2272 |
| 13 | Austin Dillon | 2245 |
| 14 | Jimmie Johnson | 2242 |
| 15 | Erik Jones | 2220 |
| 16 | Alex Bowman | 2204 |
| 17 | Ryan Newman | 769 |
| 18 | Ricky Stenhouse Jr. | 701 |
| 19 | Paul Menard | 692 |
| 20 | Jamie McMurray | 683 |
| 21 | Daniel Suarez | 674 |
| 22 | A.J. Allmendinger | 603 |
| 23 | William Byron | 587 |
| 24 | Chris Buescher | 585 |
| 25 | David Ragan | 524 |
| 26 | Michael McDowell | 493 |
| 27 | Ty Dillon | 482 |
| 28 | Darrell Wallace Jr. | 471 |
| 29 | Matt DiBenedetto | 368 |
| 30 | Kasey Kahne | 358 |
| 31 | Trevor Bayne | 287 |
| 32 | Matt Kenseth | 268 |
| 33 | Regan Smith | 157 |
| 34 | Corey LaJoie | 144 |
| 35 | Cole Whitt | 132 |
| 36 | Gray Gaulding | 119 |
| 37 | Jeffrey Earnhardt | 110 |
| 38 | Kyle Weatherman | 33 |
| 39 | Harrison Rhodes | 24 |
| 40 | Blake Jones | 21 |
| 41 | Mark Thompson | 15 |
| 42 | Cody Ware | 11 |
| 43 | Derrike Cope | 8 |
| 44 | Tanner Berryhill | 7 |
| 45 | Chris Cook | 6 |
| 46 | Tomy Drissi | 5 |
| 47 | Danica Patrick | 2 |
| 48 | Alon Day | 1 |
| 49 | Stanton Barrett | 1 |
| 50 | Hermie Sadler | 1 |
| 51 | Brendan Gaughan | 0 |
| 52 | Justin Marks | 0 |
| 53 | D.J. Kennington | 0 |
| 54 | David Gilliland | 0 |
| 55 | Ray Black Jr. | 0 |
| 56 | J.J. Yeley | 0 |
| 57 | Landon Cassill | 0 |
| 58 | Ross Chastain | 0 |
| 59 | Joey Gase | 0 |
| 60 | Parker Kligerman | 0 |
| 61 | Daniel Hemric | 0 |
| 62 | Timothy Peters | 0 |
| 63 | Cole Custer | 0 |
| 64 | Reed Sorenson | 0 |
| 65 | B.J. McLeod | 0 |
| 66 | Timmy Hill | 0 |
| 67 | Garrett Smithley | 0 |
| 68 | Chad Finchum | 0 |
| 69 | Jeb Burton | 0 |
| 70 | Jesse Little | 0 |
| 71 | Spencer Gallagher | 0 |
| 72 | Josh Bilicki | 0 |
| 73 | David Starr | 0 |
Constructors' championship standings
| Pos | Constructor | Points |
| --- | --- | --- |
| 1 | Ford | 1.304 |
| 2 | Toyota | 1.281 |
| 3 | Chevrolet | 1.187 |