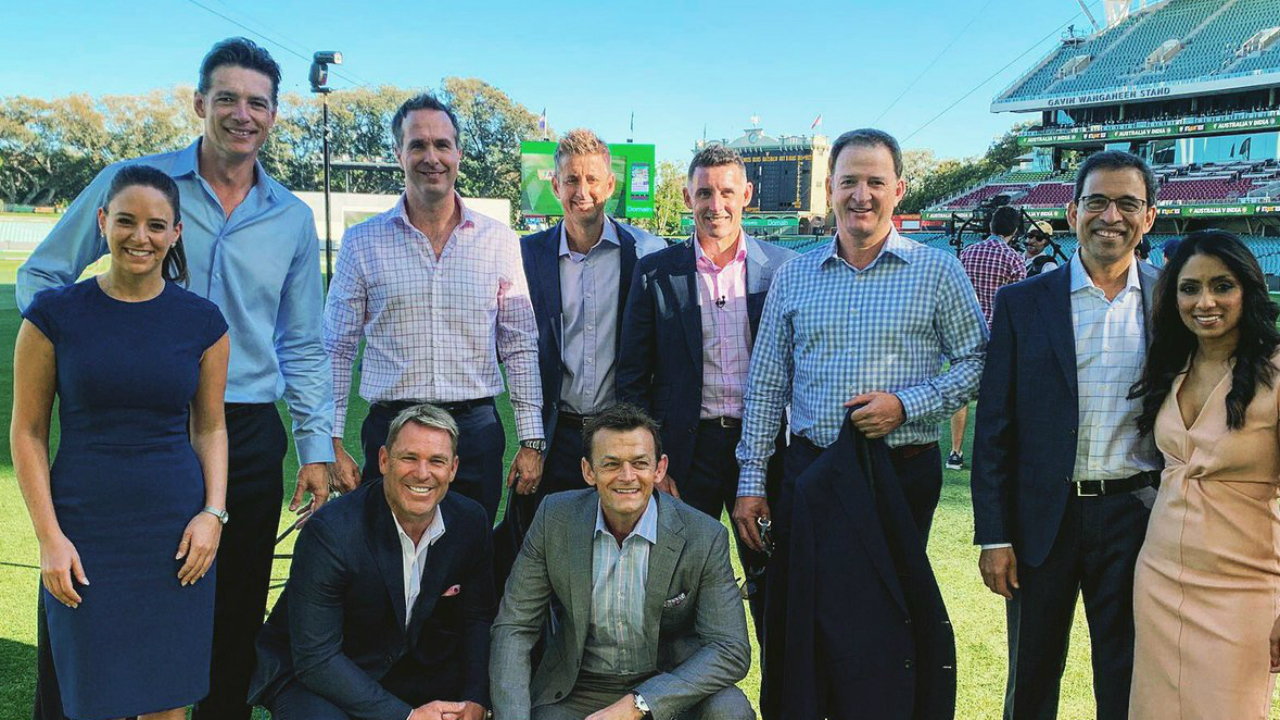 The Australian summer of cricket promises to be a breath of
fresh air with fans treated to an improved and diverse range of
viewing options under Cricket Australia's new $1.2 billion
broadcast deal.
For the television audience, two networks will fight for the
majority share as Fox Sports and Channel Seven go head-to-head on
coverage for the Tests and Big Bash League.
Channel Nine ended a four-decade long relationship with the game
in the biggest television sport shake-up in Australian history,
instead trading for the rights to the Australian Open with
Seven.
MORE:
Cricket's most savage sledges from a time before elite
honesty
Radio also lost a significant player in Triple M who made a
"commercial decision to pursue alternative summer programming"
after a two-year association with cricket.
But Crocmedia have entered the game, with SEN to broadcast men's
Tests and Big Bash matches.
The changing dynamics has seen a fist-fight for the country's
best commentators, as a number of high-profile stars form an
exciting competition of talent.
Sporting News has listed every commentator from
every broadcaster, also outlining the coverage on each
platform.
Fox Sports
Coverage
All men and women internationals including Tests, ODI and T20's,
as well as every Big Bash fixture and 23 of the 59 WBBL matches
Commentators
Adam Gilchrist, Shane Warne, Isa Guha, Mark Waugh, Kerry
O'Keeffe, Michael Vaughan, Mel Jones, Brett Lee, Mike Hussey, Allan
Border, Brendon Julian
Ready to roll @foxcricket

#AUSvIND pic.twitter.com/V3wVPwSltI

— Isa Guha (@isaguha)
December 5, 2018
Channel Seven
Coverage
All men's Tests, all women's Tests, ODI's, T20's, as well as 43
of the 59 Big Bash fixtures and a third of WBBL matches
Commentators
Ricky Ponting, Damien Fleming, Michael Slater, Glenn McGrath,
Alison Mitchell, Mel McLaughlin, James Brayshaw, Lisa Sthalekar,
Tim Lane, Abbey Gelmi, Greg Blewett, Simon Katich, Jason Gillespie,
Brad Hodge, Dirk Nannes, Trent Copeland
ADELAIDE OVAL.. On the bridge.. With that
guy. Ready to go.
So excited. COME ON AUSSIES!@7cricket

#AUSvIND 🏏 pic.twitter.com/JD9kbHFvRB

— Melanie McLaughlin (@Mel_Mclaughlin)
December 5, 2018
ABC
Coverage
All men's and women's internationals (Tests, ODI and T20), WBBL
matches, Prime Minister's XI, Governor General's XI
Commentators
Jim Maxwell, Andrew Moore, Harsha Bhogle, Alison Mitchell, Ed
Cowan, Mitch Johnson, Jason Gillespie
The countdown to the start of the Australian
test summer is on. Join us in 20min from the Adelaide oval for

#AUSvIND

📻 ABC Radio and Grandstand Digital

📱ABC Listen App@jimmaxcricket
@GibsMoore
@bhogleharsha
@AlisonMitchell@dizzy259
@eddiecowan
pic.twitter.com/8PwXoVCxAI

— ABC Grandstand (@abcgrandstand)
December 5, 2018
Macquarie Sports
Coverage
All men's and women's internationals, men's Big Bash
Commentators
Darren Lehmann, Ian Chappell, Glenn McGrath, Mike Hussey, Carl
Rackemann, Tom Moody, John Emburey, Brad Hodge, Karl Langdon, Julia
Price, Sarah Aley, Holly Ferling, Kristen Beams, Alex Blackwell,
Bruce Eva, Tim Lane, David Morrow and Mat Thompson.
We're just a few hours away from live
play!

From 10am AEDT, we bring you all the action from Adelaide as
Australia face India in the first Test.

How to listen » https://t.co/h65jBUyI3c#AUSvIND
pic.twitter.com/7i3hbT8118

— Macquarie Sports Radio (@MacquarieSport)
December 5, 2018
SEN
Coverage
All Men's Tests and men's Big Bash games
Commentators
Gerard Whateley, Damien Flemming, Simon Katich, Anthony Hudson,
Mel Jones, Lisa Sthalekar, Doug Bollinger, Aakash Chopra, Ryan
Harris, Jack Heverin, Liam Pickering
The team is complete! The 1116 SEN XI is now
full with @JackHeverin
and @lennyp23…
Get set for an epic summer of cricket! pic.twitter.com/DNoA10Ez8h

— SEN 1116 (@1116sen)
August 23, 2018